LORA RF GATEWAY (ISL058)
The ISL058 LoRa RF Gateway connects Invisible Systems' range of LoRa devices to their cloud platform, Realtime-Online. It has an integrated LoRa RF transceiver capable of receiving wireless data from up to 10km away, internal memory for logging packet data, and an integrated 2G/3G modem to send stored data to Realtime-Online.
2G or 3G cellular modem

Multi-network SIMs and cellular roaming capability

Integrated RF 868MHz LoRa transceiver (915MHz US & AUS versions

Internal 2Mb memory, with storage capacity of upto 1 year (15 minute data profile)

Small footprint

Wireless range upto 10km line-of-sight from Invisble Systems' tranmsitters

Operates in conjunction with Realtime-Online cloud platform

Duplex bi-directional communications via GPRS

CE, FCC, IC, ETSI, RED, CB Scheme approved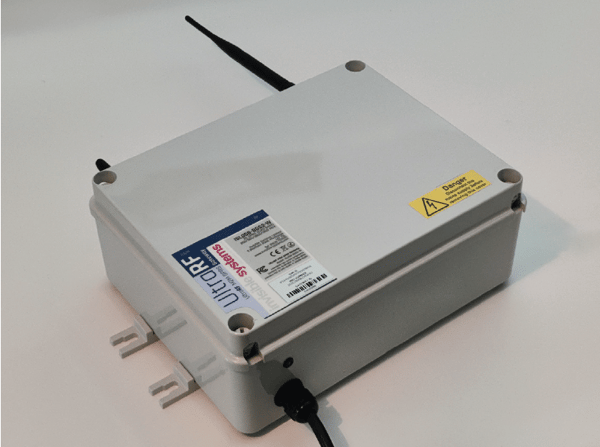 LONG BATTERY LIFE
Our sensors have been designed to have a battery life of up to 10 years, so you don't have to worry about changing them frequently.
LOWER COSTS
Choosing wireless sensors and a cloud platform enables you to reduce your installation and maintenance costs.
SIMPLE SET-UP
Our CQC compliant sensors are easy to set up and do not require integration with your existing IT infrastructure.



PERSONALISED DASHBOARDS
Our online monitoring software, Realtime Online is set-up to meet the specific needs of your organisation.
PROVEN PARTNER
Invisible Systems are trusted by clients in both the public and private sectors. You can rely on us to deliver an outstanding level of service.
PROACTIVE ALARM SYSTEM
Pro-active alerts ensure that your team can prevent breaching critical levels, and so safeguard patient well-being.
TECHNICAL DATA
RF RADIO TRANSCEIVER

Network Topologies: Point-to-Point, Point-to-MultiPoint

Security/Encryption: 128 bit data encryption

Frequency Band: 868MHz UK (915MHz US & AUS)

RF Data Rate: Variable bit rate

RF Technology: Frequency Hopping Spread Spectrum (FHSS) (US & AUS ONLY)

Modulation: DSSS

Output Power: 100mW (20dBm)

Maximum Radiated Power (EIRP): 45.13mV/m measured at 3 meter

Range Line-of-sight (Outdoor): Up to 10km

Sensitivity: -132dBm

QOS Management: RSSI, LQI

Link Budget: 160dB maximum

Memory: 2Mb

ELECTRICAL/ENVIRONMENTAL

Supply Voltage: 240VAC

Current consumption: Peak 1.5A

Temperature (Operating): -20°C to +55°C

Temperature (Storage): -20°C to +55°C

Dimensions: 240mm x 190mm x 90mm


Weight: 1kg

2G VERSION

2G GSM Quad-Band: 850 / 900 / 1800 / 1900 MHz


2G Output Power: Class 4 (2W) for 850 / 900, Class 1 (1W) for 1800 / 1900


GPRS Class 10: DL: max. 85.6 kbps, UL: max. 42.8 kbps

3G VERSION

3G Dual-Band UMTS (WCDMA/FDD): EU: 900 and 2100 MHz, US: 850 and 1900 MHz


Dual-Band GSM: EU: 900 and 1800 MHz, US: 850 and 1900 MHz


3G Output Power: Class 4 (2W) for 850 / 900, Class 1 (1W) for 1800 / 1900


HSDPA Cat.8 / HSUPA Cat.6 Data Rates: DL: max. 7.2 Mbps, UL: max. 5.76 Mbps


EDGE Class 12 Data Rates: DL: max. 237 kbps, UL: max. 237 kbps


GPRS Class 12 Data Rates: DL: max. 85.6 kbps, UL: max. 85.6 kbps

CERTIFICATIONS

FCC ID: ZWZ-ISL067, QIPBGS2


Industry Canada ID: 12053A-ISL067


CE: ETSI EN 300 220-2 V2.4.1 (2012-05)


Safety: TRAC TS080000 EN60950-1


ROHS: YES