ENVIRONMENTAL MONITOR (ISL EM1030)
The ISL EM1030 Environmental Monitor is an automated, fixed monitoring station with an array of sensors that tracks a total of 11 important environmental parameters, including Temperature, Pressure, Humidity, PM1/2.5/10, Formaldehyde, Ozone, Carbon Dioxide, VOCs and Noise.
It comes in a rugged aluminium enclosure with wall mounting support, and includes a built-in air pump for active flow.
The ISL EM1030 Environmental Monitor allows for automated monitoring and improves significantly on the occasional use of handheld units. Mapping data trends becomes possible thanks to continuous surveillance. With a higher detection capability for small variations, the ISL EM1030 Environmental Monitor can trigger automated alarms if predefined thresholds are reached, improving reaction time while lowering costs.
Understanding the air quality in your environment can inform decisions to protect health.
7 high quality digital sensors tracking 11 air parameters

Monitors Temperature, Pressure, Humidity, PM1/2.5/10, Formaldehyde, Ozone, Carbon Dioxide, VOCs and Noise

Built-in air pump for active flow

USB port for power

Optional alarm and notification functions using built-in speaker

Rugged design with aluminium enclosure and wall mounting support

Low power consumption

Compact size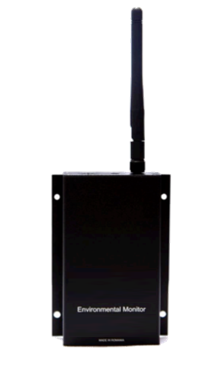 LONG BATTERY LIFE
Our sensors have been designed to have a battery life of up to 10 years, so you don't have to worry about changing them frequently.
LOWER COSTS
Choosing wireless sensors and a cloud platform enables you to reduce your installation and maintenance costs.
SIMPLE SET-UP
Our CQC compliant sensors are easy to set up and do not require integration with your existing IT infrastructure.



PERSONALISED DASHBOARDS
Our online monitoring software, Realtime Online is set-up to meet the specific needs of your organisation.
PROVEN PARTNER
Invisible Systems are trusted by clients in both the public and private sectors. You can rely on us to deliver an outstanding level of service.
PROACTIVE ALARM SYSTEM
Pro-active alerts ensure that your team can prevent temperatures breaching critical levels, and so safeguard patient well-being.
ADDITIONAL INFORMATION
CONFIGURABLE THRESHOLDS
Configurable high/low thresholds allow different transmit intervals when thresholds are crossed providing advanced edge intelligence to the network, and enable alarms to be generated by Realtime-Online™.
D
ata from every sensor in your network is reported back through Invisible Systems Big Data architecture either to our Monitoring and Analytics platform Realtime-Online™, or to a partner cloud platform via our API, ensuring that your data is visible, actionable and valuable to your organisation.
LORAWAN
The ISL EM1030 is a LoRaWAN certified device and Invisible Systems are members of the LoRa alliance. It offers both ABP and OTAA activation options and is designed to work with all LoRaWAN gateways and network servers.
TECHNICAL DATA
COMMS

Frequency: IN865, EU868, US915, AU915, AS923

TX power: 25mW

Antenna connection: SMA female

APPROVALS

Certifications: CE, ROHS 2017

ENVIRONMENTAL

Dimensions: 110x65x25mm

Weight: 170g

Enclosure: IP30

Mounting: Mounting support provided

Operating temperature range: 0°C to +50°C

Operating humidity range: 0%RH to 95%RH

Supply voltage: 6 - 28 V

TEMPERATURE

Range: -40°C to +85°C

Resolution: 0.5°C

Accuracy: ±1°C

Sensor lifespan: 5 years

PRESSURE

Range: 300hPa to 1100hPa

Resolution: 1hPa

Accuracy: ±0.25%

Sensor lifespan: 5 years

HUMIDITY

Range: 0%RH to 100%RH

Resolution: 1%RH

Accuracy: ±2%RH

Sensor lifespan: 5 years

PM1/2.5/10

Range: 0μg/m³ to 1000μg/m³

Resolution: 1μg/m³

Accuracy: R=0.99

Sensor lifespan: 5 years

FORMALDEHYDE

Range: 0ppm to 5ppm

Resolution: 10ppb

Accuracy: ±5%

Sensor lifespan: 2 years

OZONE

Range: 0ppm to 10ppm

Resolution: 10ppb

Accuracy: ±5%

Sensor lifespan: 2 years

CARBON DIOXIDE

Range: 400ppm to 5000ppm

Resolution: 1ppm

Accuracy: ±5%

Sensor lifespan: 5 years

VOCs

Range: 10ppm to 1000ppm (estimated for alcohol)

Accuracy: ±5%

Sensor lifespan: 2 years

NOISE

Range: 30dB to 130dB

Resolution: 1dB

Accuracy: ±10%

Sensor lifespan: 2 years